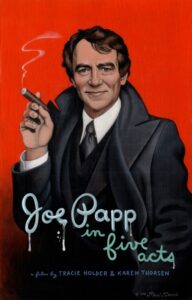 Joe Papp in Five Acts
90 min
June 3, 2022
Joe Papp in Five Acts tells the story of this indomitable, feisty, street-wise champion of the arts. As founder of The Public Theater, Free Shakespeare in the Park and producer of groundbreaking plays like Hair, A Chorus Line and for colored girls who have considered suicide/ when the rainbow is enuf, Papp believed great art was for everyone, not just a privileged few. A cultural change agent for more than fifty years, Papp's stages held up a mirror to society with work that reflected the reality of people's lives.
More than perhaps any other cultural figure in recent history, Papp worked to expand public access to the arts. "We have public libraries," he would argue, "Why not public theaters?" Papp recognized the role artists could play in building a more democratic, inclusive society. At a time when theatre was largely the domain of white men, he was convinced that women, LGBTQIA+, BIPOC and other marginalized communities, denied power elsewhere in society, could develop it on the stage. His goal was a "theater of inclusion" on-stage, backstage, and in the audience.
Featuring rare footage from the 50s to Papp's death in 1991, and up-close scenes from the performances themselves, Joe Papp in Five Acts tells his own story without narration. His great accomplishments and his own, often tumultuous, personal history is told by the artists he helped create—and, in some cases, tried to destroy—including actors Kevin Kline, James Earl Jones, Meryl Streep, Olympia Dukakis, Mandy Patinkin, Martin Sheen, Christopher Walken and playwrights Larry Kramer, David Hare, Ntozake Shange, George C. Wolfe, David Rabe, and Liz Swados, among others.
Using his life and work as its prism, Joe Papp in Five Acts, aims to keep the legacy of this larger-than-life visionary alive and spark a national conversation about what it means to be American and the role of art in a democracy for a new generation.
About the Filmmakers
Tracie Holder
Joe Papp In Five Acts is the fruit of Tracie Holder's personal passion for the subject.
Holder, a Brooklyn native, got to know Joe Papp through her previous career in electoral politics—though she'd been an admirer ever since she began going to Shake­speare in the Park at age 16. They met in 1989, when Holder asked Papp to participate in a benefit reading of dramatic works written by women about women. Papp wanted to play Portia, from The Merchant of Venice. Holder noted that Shakespeare was many things but not a woman, and therefore didn't fit the bill. Initially Papp was indignant but then Holder proposed a play about Emma Goldman. To everyone's delight—especially his own—Papp became Emma Goldman for a night. It was, by all accounts, a memorable performance.
After years in politics, Holder gravitated to documentary film when she became convinced that visual storytelling has a unique power to create empathy and an opportunity to walk in someone else's shoes. Thus, her transition to film has been part of a lifelong commitment to further social justice and build a more equitable, inclusive society.
It was soon after Joe Papp's death in 1991 that she first thought of making a film about this street-wise champion of the arts.
In the time since then, Holder has worked in a variety of roles in independent media – documentary filmmaker, producer, engagement specialist, funding strategist, and consultant.
A 2016 Sundance Creative Producers Fellow, Holder leads workshops in the U.S. and abroad, tutors and serves on juries at international pitching and training sessions. She has been honored with grant awards of more than $3 million from major film funders including Ford and MacArthur Foundations, Sundance, NEA, NEH, NYS Council for the Arts, CPB, ITVS, PBS/ American Masters, among others.
Holder's company, Means of Production, works with filmmakers and other artists to help them realize their own visions. Clients include: IDFA, Ramallah Doc, Lisbon Docs, Sheffield Doc/Fest, Scottish Documentary Institute, Ignite Ireland, Firelight Media, DOC NYC, Creative Capital, Chicken & Egg, Black Public Media, Brown Girls Doc Mafia, Union Docs, and Gotham Media, among others.
She was a longtime consultant to Women Make Movies and served as the Development & Funding Strategist for Abby Disney's Fork Films. Holder is a former board member of NY Women in Film, grant panelist for national and local funders and teaches at the New York Film Academy.
Her producing credits include Grit, (Hot Docs/POV), The Quiet Zone, and One Person, One Vote? in production. Holder is currently directing The People's Will, a feature-length documentary film about the rivalry between two Shakespearean actors in New York City in 1849, that led to a riot of 15,000 people in which 22 were killed. The riot marked the first time American troops would fire on American citizens. The People's Will was one of four projects nationally awarded an NEH production grant in 2020.
Karen Thorsen: 
Award-winning writer/filmmaker Karen Thorsen finds inspiration at the intersection of art and social justice. Her heroes are game-changers, the artist/activists who shape history; her films tell stories without narration, weaving first-person narratives with archival treasures. Thorsen began as a writer. After graduating from Vassar College, with a year at the Sorbonne, she was an editor for Simon & Schuster, journalist for LIFE Magazine, and foreign correspondent for TIME. Screenwriting followed, then directing. Her first feature-length documentary was JAMES BALDWIN: THE PRICE OF THE TICKET (1990), produced with Maysles Films and PBS/American Masters. Now considered a classic, it has been honored in twenty-five countries. In 2015, the film was re-mastered in WideScreen 2KHD—and is the centerpiece of the JAMES BALDWIN PROJECT, international outreach & engagement focused on racism, discrimination and the meaning of brotherhood. Supported by the Ford Foundation, NEA and others, JBP film screenings, community forums and online events have already reached millions. JBP works-in-progress include THE DISORDER OF LIFE, a memoir of Thorsen's collaboration with Baldwin; CONVERSATIONS WITH JIMMY, a series of community-based film screenings + talkbacks; JAMES BALDWIN OUTLOUD, a five-act performance of Baldwin quotations; and KEEP IT LIT!, a digital design-yourown Baldwin curriculum.
Thorsen's second PBS/American Masters production is JOE PAPP IN FIVE ACTS, a feature-length doc made with Co-Producer/Director Tracie Holder. Already premiered at the Tribeca Film Festival, its PBS broadcast is June 3, 2022. Beyond BALDWIN and PAPP, Thorsen's credits include broadcast productions, museum installations, documentary shorts and interactive media – often in collaboration with DKDmedia's Douglas K. Dempsey. Their films have screened on six continents and in six museums on the National Mall; permanent installations include the Smithsonian Museum of American History, George Washington's Mount Vernon, Great Platte River Archway and Pilgrim Hall Museum. Recognition ranges from multiple THEA and festival honors to Parents Choice and the Oscar Short-List.
Browse Other Films We've Supported